When replacing O-rings for carboy fermenters ensure you purchase the correct O-ring for your home brew equipment.  O-rings come in different sizes to fit various carboys:
AMPI - 10mm thick with a 245mm diameter
Atlas - 7mm thick with a 270mm diameter
BMW/Rheem - 10mm thick with a 190mm diameter
Davis - 8mm thick with a 245mm diameter
VB - 8 mm thick with a 220mm diameter
* Make sure you measure the O-ring you want to replace so your new O-ring is a correct fit!
Soft Drink Fermenter Parts

Ampi Carboy Lids are recognised by the full handle in the ...

Brewing fermenter Italian style wine tap. This tap has a ...

Still Spirits Snap Tap suits EZ Filter System. It may be ...

Natural fermenter tap. 3/4" BSP thread suites AMPI, BMW, ...

Fermenter tap sediment reducer. Fits fermenter tap back end ...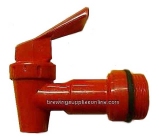 20mm carboy snap taps have an easy to use cam lever action ...

Stick on Thermometer suitable for home brew fermenter.
Three piece tapered shank Senior airlock/bubbler.